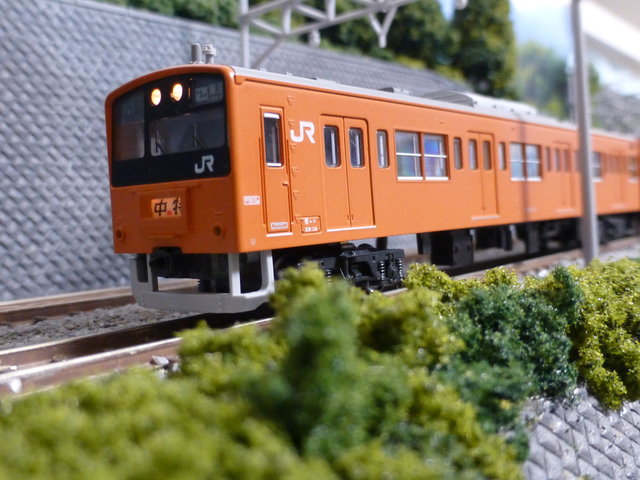 Reference
Model information

| | |
| --- | --- |
| Scale | Japanese N scale (1:150, 9mm gauge/N gauge) |
| Manufacturer | Kato |
| Catalogue number | 10-370 |
| Produced | 1997-12 |
| Manufacturer page | n/a |
| Japanese | 201系(中央線色) |
Detail
This set was produced in 1997 and comes with directional lighting (non-LED), diamond pantographs, blackened wheels and fitted corridor connectors.
The accompanying explanation sheet doesn't indicate what state of the prototype the model represents, but certainly some time between 1987 (when JR came into being) and the model's production date. The train code marker stickers are of the newer digital style. The presence of a "skirt" indicates a date between ca. 1993 and 1996, when these were added (source: http://jnr201.web.fc2.com/saibu/zenmen/skirt.html).
Other versions of this model
In 2019 Kato released an updated version of this model (catalogue number 10-1551/10-1552, Kato website: 201系中央線色(T編成)) representing the post-2001 form with single-arm pantographs.
Kato have also released a version in original JNR-era style (catalogue-number 10-230, Kato website: 201系中央線色(国鉄仕様)10両セット).
Links