Saturday, April 11, 2015
Hornby Shop in Tokyo
Hornby has some great childhood memories for me - my "first" was admittedly Lima, but for a long time Hornby was the model railway company with its entrancing catalogues (the layout featured in the 1980 edition was the thing of a young boy's dreams, and their Zero 1 control system was something I had to have - but way outside the available financial capability...) Though I still have a few Hornby items, for me OO (aka 'Orribly Oversized) is history and it's hard to imagine any other way but the N-gauge way, so I wouldn't really want to go out of my way to look at Hornby. However this shop, the only Hornby dealer in Japan (and probably the only one in East Asia) is a few minutes away from my house by bike so it would be rude not to pay a visit: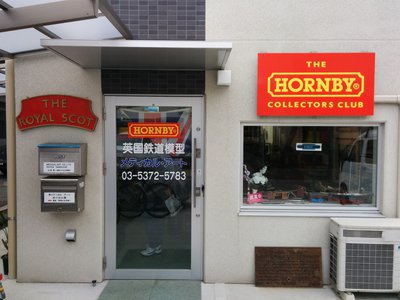 It's the kind of shop I always loved as a child - large layout in the middle, shelves overflowing with stock, railwayana dotted about. I had a long chat with the manager, who was delighted to see a genuine British person. The shop is a side-business of a larger company which specializes in artwork for medical practices and as such is only open a few days a month - check their website for details. I don't really have much idea about Hornby prices these days, but what was on offer didn't seem too unreasonable, and they are able to order items if needed. There was also a small drawer with some miscellaneous N-gauge stuff and I was happily able to relieve them of some "Lyddle End" items and various other bits and pieces.
Location and opening times
Homepage: http://www.medicalart.co.jp/mokei/index.html (Japanese only)
Address: 〒177-0041東京都練馬区石神井町5-3-22 (5-3-22 Shakujiimachi, Nerima-ku, Tōkyō-to 177-0041)
Nearest station: Shakujiikōen (Seibu Ikebukuro Line)
Access details: homepage information (Japanese); Google Street View (the building under construction)
Opening hours: a few days each month, mainly Fridays and Saturdays; from 9am - 10pm; see the website calendar.