MicroAce N gauge 205 series (Yokohama Line)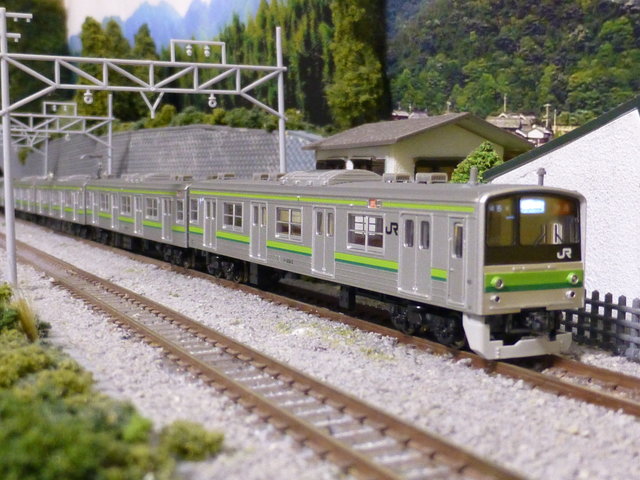 Reference
Model information

| | |
| --- | --- |
| Scale | Japanese N scale (1:150, 9mm gauge / N gauge) |
| Manufacturer | MicroAce |
| Class | 205 series |
| Catalogue number | A1664 |
| Associated products | n/a |
| Produced | 2009-12 |
| DCC | none |
| Manufacturer page | 通勤型電車(国鉄/JR) > 205系 横浜線 7両セット (PDF) |
| Japanese | 205系 横浜線 7両セット |
Set formation
↑ Hachioji (八王子)
KuHa
205-2
MoHa
205-4
^
MoHa
204-4
SaHa
205-4
MoHa
205-6
^
MoHa
204-6
KuHa
204-2

↓ Higashi-Kanazawa (東神奈川)
Review
This MicroAce model represents the very early 205 series batch with the classic sash window style (2段サッシ). It's a reasonably modern model with flywheel motor, LED directional lighting. Bogies have pinpoint pickups and darkened wheelsets.
Overall this looks like a convincing representation of the 205 series.
The main downside is that the car interiors (floor/seating) are modelled in a rather dark red for some reason, which makes the interiors look very dark and unconvincing. Also, the destination board lighting is very bright.
Note this set was modified by a previous owner to "modernize" it, primarily by replacing the original diamond pantographs with single-arm ones, and adding front skirts.
Prototype
This set was originally 10-car Yamanote Line set YaTe 2 (ヤテ2) but was loaned to the Yokohama Line for a couple of months from January 1993, where it ran as the 7-car KaMa 51 (カマ51) set in Yokohama Line colours. As such photographs of this unit are comparatively rare; the only picture I've been able to locate is:
In 2005 it was transferred to the Keiyo Line as set KeYo 25 (ケヨ25), and in 2012 it was passed on to the Fujikyu Line where it runs as a Fujikyu 6000 series 3 car set (see e.g. here).
Packaging
This model was acquired without the original packaging. MicroAce helpfully provide a picture of the opened case here.
Maintenance and repair
This is a standard MicroAce chassis design of the second generation, with flywheel motor and pinpoint pickups.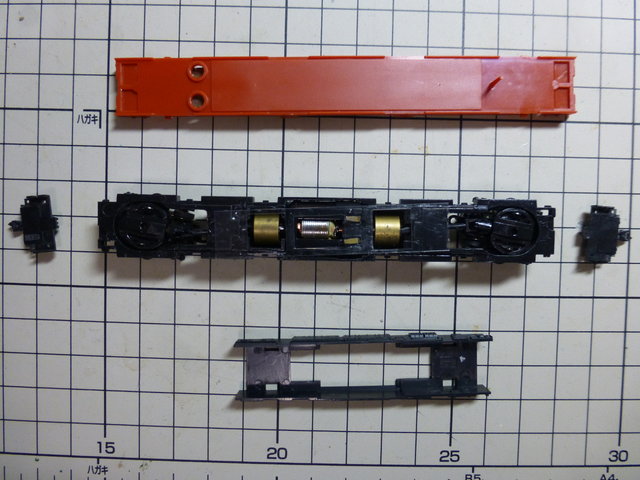 Motor unit, partially disassembled