Sunday, March 5, 2017
Introducing Engelscher Markt
I lived in Berlin for many years, and spend an awful lot of time near or passing through the station now known as "Hackescher Markt". It's one of a string of stations on Berlin's Stadtbahn, a 4-track brick-built viaduct running roughtly east-west through the city centre and was originally constructed as part of a scheme to link some of the terminus stations which had been built haphazardly by various private companies during the mid 19th century.
Originally I wasn't planning to do anything particularly German on my proposed layout, but a chance acquisition of some second-hand Faller viaduct sections during a visit to Berlin a while back got me thinking, and I realised I could sneak in a little viaduct station vaguely inspired by the Stadtbahn. The choice fell on Hackescher Markt because I'm familiar with it, moreover it has tramlines around it and I want trams on my layout anyway. However it won't be anything as grand as a proper model of the station - for a start there'll only be two tracks, not the two S-Bahn and 2 Fernbahn ones of the real version. The viaducts will be the relatively plain Faller ones, nothing like as fancy as the prototype, and I won't be attempting to model the rather handsome station hall either (partly as I want to actually see the trains and the layout behind the station).
With that in mind I couldn't possibly claim this is a model of the real Hackescher Markt, and don't feel happy about giving the station that name, hence "Engelscher Markt", which (I hope) rather neatly combines elements of the current name and the previous, GDR-era one ("Marx-Engels-Platz", though it was not really close to the eponymous square).
Here's the current state, basically a simple mock-up with nothing fixed in place: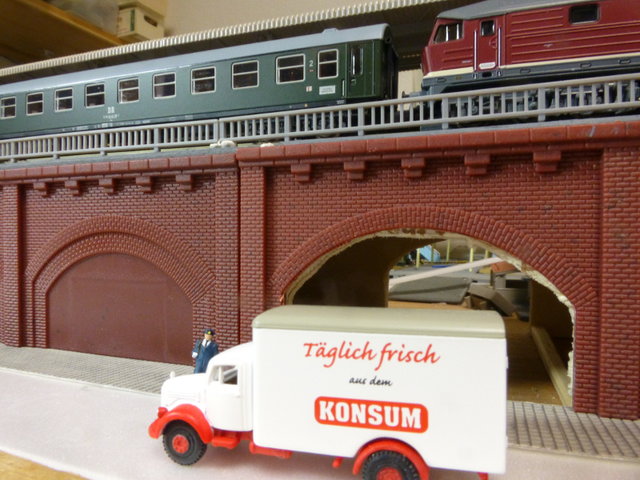 The Konsum van is admittedly somewhat anachronistic but at least the Y-Wagen behind the locomotive have "Berlin Stadtbahn" on their route panels.
Anyway, that's a start, we'll see how it goes...