Fleischmann DR V100/BR110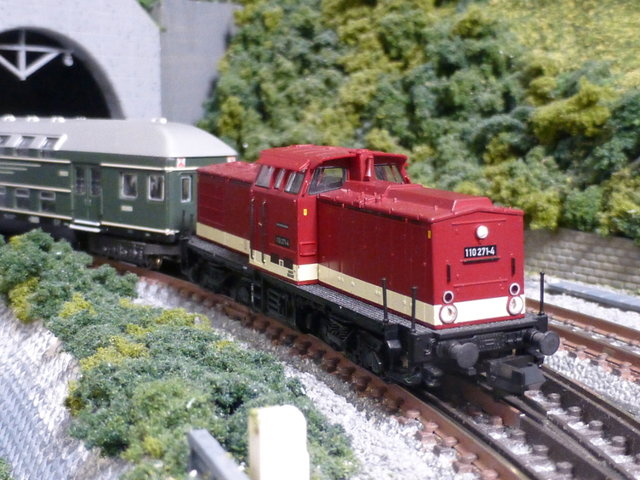 Review
A very nice little locomotive in Deutsche Reichsbahn red, purchased in October 2014. Unfortunately even though this locomotive was tested in the shop, after getting it back to Japan and running it in (as recommended by the shop staff), it did around 10 laps of the layout then came to a halt with a slight electrical/burning smell. The lighting units still worked when power was applied, but would short out after a certain level.
However sending it back to the shop from Japan would not be cheap, with the additional risk of further damage or loss occurring en-route, and I had managed to lose the receipt anyway. Further investigation revealed that the motor itself was defective - it actually worked but had a "dead section" in the rotation. It does come with a parts list but I was flabbergasted to see that the Fleischmann RRP for the replacement motor was around half the cost I originally paid for the loco new, plus P&P. Fortunately I was able to source one (at the start of 2015) at a reasonable price (ca. 18 Euro + P&P) on Ebay.de from seller "ts-modelleisenbahn" (as of 2019 does not seem to be present), which was a fairly satisfactory solution considering the circumstances.
The locomotive now runs nice and smoothly.
Prototype
The prototype was built in 1970 and its original running number was "110 271-4", which this model carries. The protoype was renumbered to "112 271-2" in 1985, and "202 271-3" in 1994 following the merger of DR and DB. As of 2015 it is evidently still in service with the Bocholter Eisenbahn (picture).
Pictures