Kato N gauge 101 series (Chuo-Sobu Line)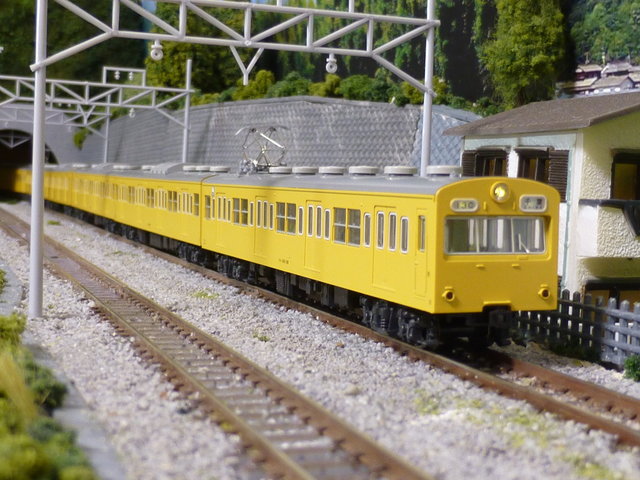 Reference
Model information

| | |
| --- | --- |
| Scale | Japanese N scale (1:150, 9mm gauge / N gauge) |
| Manufacturer | Kato |
| Catalogue number | 10-255 |
| Produced | 2006 |
| DCC | Kato "DCC friendly" |
| Manufacturer page | 101系 総武緩行線色 |
Set formation
↑ Mitaka
KuMoHa
100-108
MoHa
101-91
SaHa
101-233
SaHa
101-108
MoHa
100-208
KuMoHa
101-155
↓ Chiba
Review
Model produced in 2006; purchased second-hand in good condition but very noisy runner; fixed by oiling motor bearings.
Three cars have evidently been modified with Kato Roundhouse parts kit 11-510 (image link) which contains replacement roof parts and AU75 air conditioning units, here SaHa 101-233: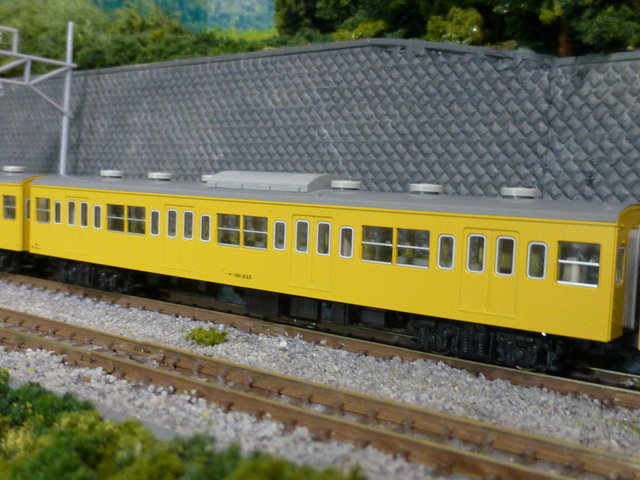 Prototype
The original model is based on 1978 condition with no air conditioning; it's not clear when this was added.
One of the cab cars, KuMoHa 101-155, was based at Tsudanuma Depot between 1967 and 1982, before being transferred to Hineno Depot in Osaka (see: 国鉄 クモハ101-155).