Tuesday, February 5, 2013
Stairlift at Meiji Jingumae Station
I never realised before, but there's an underground passageway which traverses across the top of the Chiyoda Line platforms at Meiji Jingumae station, leading from the entrance at the top end of Omotesando close to JR Harajuku Station all the way down to the crossing with Meiji-dori and the new Fukutoshin Line concourse. Omotesando runs downhill, so the passageway - which has presumably been there since the Chiyoda Line part of the station was built - has quite a deep stairway roughly halfway along, of which half has been crudely converted into this "stairlift":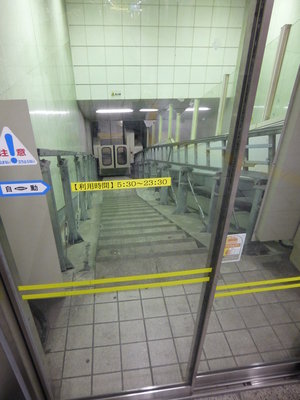 The passageway doesn't seem to get much traffic - I've know the area for years and didn't know it was there - so it's evidently no problem to sacrifice half the width of the stairs for this lift. It's nothing spectacular on the grand scale of things, but I thought I'd take some photos as it's the first elevator of this kind I've seen.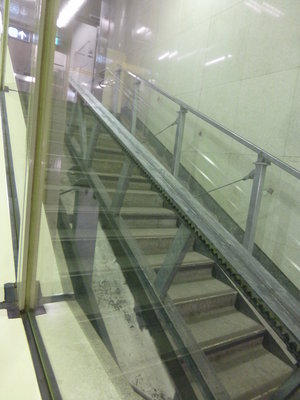 It doesn't seem to get much use, and no I didn't try it out.
View from below: