Tuesday, October 12, 2010
Tokyu Ikegami Line viaduct strengthening
The Tokyu Ikegami Line emerges from the low hills of southwestern Tokyo onto a reinforced concrete viaduct which crosses the (quite unspectacular) Meguro River valley before ending at Gotanda Station, straddling the Yamanote Line. Originally it was planned to extend the line towards the centre of Tokyo, where it would meet the rise to the east of the station, but ever since 1928 it has remained a terminus four storeys up and will presumably remain so until the end of time.
This presupposes that the supporting viaduct will stand the test of time, and by the looks of it, it is still the original structure and in dire need of repair - which it is getting as part of what seems to be a very long drawn-out project to strengthen the entire stretch between Gotanda and the neighbouring Osaki Hirokoji station.
Construction on the middle section appears to be mainly complete, and most of the supporting pillars have been surrounded with a collar of reinforced concrete. For whatever reasons this has not yet been extended to the angled part of the arches, and there is still a lot of rebar sticking out. The picture below gives an idea of the general situation: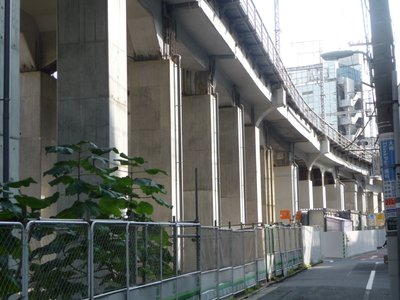 This is looking east, from close to the bridge over the Meguro River towards Osaki Hirokoji station. Further towards that station, just before the bridge over Yamanote Dori, there is a section still pretty much in original condition, which looks pretty dilapidated. (I'll post pictures in a later entry).
On the other side of the river to the above photo, the line ends on a steel viaduct supporting the single island platform of the Tokyu line station. Below this there is a series of free-standing structures occupying most of the space - mainly small eating places and "snack" bars which have a certain character and olde worlde charm but which would also be condemned as unfit for human use in most other G7 countries. It seems as of a couple of days ago these are scheduled for demolition to give access to the underside of the viaduct, and the area is cordoned off by a white construction fence: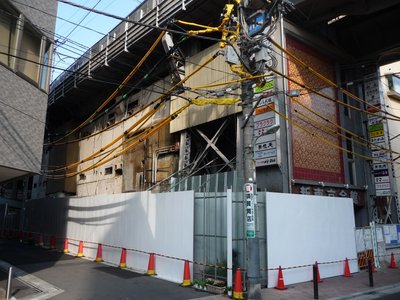 The eating places etc. have already gone, and unfortunately I never thought to get a picture. Only the grand-sounding Shin Tokyo Kaikan (新東京会館, "New Tokyo Hall") remains, albeit presumably not for long: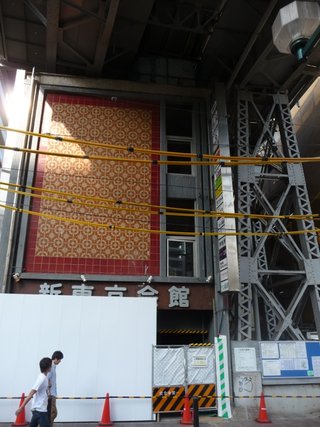 I pass by this area pretty regularly so I'll try post more photos of the redevelopment.